Happy Labor Day weekend to my fellow American readers!
And happy Sunday to you, my friend.
Inside this Sunday:
I'm reading about the importance of time and space for building better relationships and memories.
I'm working on my best self, our Curious Lion round tables, and an epic article on group learning.
I'm thinking about the power of a stable community.
We just got back from a 2.5 week vacation in the Pocono mountains of Pennsylvania. We kayaked, Leo floated, and we had a giant black bear stroll past us as we sat around the campfire. It was terrific!
Jokes, and bear company aside, the best part about the trip was the human company. We had Jill's family with us for the first week and friends the second week. I'm convinced that quality time is a myth. It's longer stretches of "nothing" time that really count. It's physical presence that matters.
As you'll see below, going forward I'm going to consciously create more time and new spaces for us to be with friends and family to allow everyone to be their best selves.
Let's dive in.
Andrew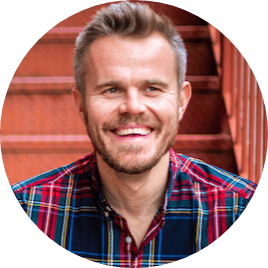 P.S. If you enjoyed this week, please think of one person who might also and smash that forward button. Thank you! ?
---
MOST CLICKS
Ahead by a hair was my brother's article on learning about coaching while learning to be a Dad. Nice one, Strett!
---
I'M READING
⏳The Myth of Quality Time
This timeless piece from the Times was shared by my friend, Pranav Mutatkar. It dismantles the idea that we can "plan instances of extraordinary candor, plot episodes of exquisite tenderness, engineer intimacy in an appointed hour."
It does so with the simplest of stories – a week-long family vacation with all 20 family members. That may sound horrifying to some, and it probably is at times. But it's in these long stretches of just being that people open up and share the most interesting things.
✈️You Won't Remember Much of This
Related to the idea of physical presence, this article explores the role of location, and why 10 days somewhere vividly new produces more memories than 10 weeks at home.
There is a great analogy with video compression and the concept of "diffs". When we visit a new city for a week, our brain is exposed to a dizzying array of diffs in the form of new food, sights, smells, and sounds. Months at home on the other hand, like we've all had with the pandemic, feel like a minute. There just aren't enough diffs for our brains to register.
---
I'M WORKING ON
?‍♂️My Best Self
I came across this exercise in Paul Millerd's newsletter. The idea is you ask a handful of your closest friends a simple question.
Where have you seen me being my best self?
The responses have been amazing! Aside from the fact that you feel great about yourself, there are remarkable consistencies in what others see as my best self, and it's something I am not totally conscious of doing. This is cool, because now I'm more aware of a strength I can double down on.
I answered the question for everyone too, and one of the realizations I had was that I tend to mimic the best thing about my friends. For instance, I have one of those friends who always seems to nail the funniest thing about a moment. His humor is world class, and when we're together we're always joking around. It brings out the best in me. I have another friend who is at their best defaulting to yes. She's like my partner in crime, because she says yes to my ideas every time. I tend to have more ideas around her and feed off that positivity.
?Learning Culture Conversations
We wrapped up our very first Learning Culture Conversation last month and put together a highlights package of the ideas shared.
Click here to learn how learning leaders are approaching the pandemic, continuous learning, user generated content, and measuring the ROI of training.
This invite-only round table was a roaring success so we'll be doing another one at the end of September.
If you're in L&D and would like to participate, hit reply and let me know!
✍️Writing About Group Learning
I'm working on another sprawling article, and this one is already over the 5K word mark. It's about group learning – why it works so well, and how to optimize it. But the more I write the more I realize how important community is. This was never more evident then when I posted this on Twitter:
Friends, I'm looking for feedback on an article

It's about group learning

Only problem is it's 5,000 words

Anyone up for the challenge?
— Andrew Barry ? (@Bazzaruto) September 4, 2020
The response has been amazing! At least 10 people are providing feedback on the article now, and next week I'm going to work on the second draft.
How meta is that? Working on an article about community and group learning and then getting this awesome response from a community of people I haven't met in real life. As my friend Robbie tweeted:
"A Spartan's true strength is the warrior next to him"

Make friends. Build relationships. Help each other.

The Spartans knew.

Twitter can be the new Sparta.
— Robbie Crabtree (@RobbieCrab) September 5, 2020
You will be the first to know when the article is published.
---
I'M THINKING ABOUT
Kurt Vonnegut on creating communities — "What should young people do with their lives today? Many things, obviously. But the most daring thing is to create stable communities in which the terrible disease of loneliness can be cured."
What new communities have you joined?
What is one thing the community you're in does really well?
Hit reply, I love hearing from readers!
This email newsletter was originally shared with subscribers on September 6th, 2020. To receive the latest newsletters twice a month, sign up below!