Hello,
I received so many great responses to my last email from you all!
It might've been the casual (late) baby announcement that took some of you by surprise, but for most, it was the idea of clarifying your most important values before making big decisions that really resonated. Thanks for all the replies.
In a similar vein, I published a longer blog post last week on the Japanese concept of ikigai.
The idea has been conscripted by motivational gurus and mental health bloggers here in the West to mean something a little more outcomes-based than it really is.
But ikigai does concern itself with purpose. The origins of this principle for living have been traced back to residents of Okinawa in Japan – a region known for having almost three times as many octogenarians per capita than the United States.
The idea loosely translates to finding that thing you get up in the morning for. To read more about finding your ikigai, and what we can learn from the residents of Okinawa, check out the full post and let me know what you think.
Enjoy the rest of the ideas I discovered below,
Andrew
P.S. Timeframes really matter.
---
LONGER FORM ON THE BLOG
Lessons learned from building Amazon

My summary of The Everything Store. If you're interested in building your own company, or managing the growth of a company, then this book is a trove of wisdom.

Seven essays to improve your thinking in 2020

Quick summaries and links to 7 of the best articles I read in 2019, covering topics ranging from personal finance to China, from our history as humans to where we're headed as a society, and from understanding systems to understanding the flow of information within them.

Ikigai and the importance of being curious

What can we learn from the long-living residents of Okinawa, Japan?
---
COOL THINGS THIS WEEK
Remote Work
A recent guide on the state of remote work revealed some intriguing implications for the future of work.
Not surprisingly, 97% of remote workers would recommend remote work to others. But why would the other 3% not? That's where it gets interesting.
People who don't recommend remote work are overwhelmingly on teams split between offices and remote workers, i.e. not fully remote.
Communication and collaboration come through as consistent challenges for remote workers. This is most true when teams are not fully remote, or in different timezones (e.g. real-time chat apps like Slack work best only when you can synchronize with your team). Look for a rise in asynchronous communication solutions.
Is there a sweet spot for the amount of time spent working remotely that leads to the most contentment? The survey found a strong correlation between people who are happy with the amount of time they work remotely, and people who work remotely more than 75% of the time.
The top benefits? No surprise to see "having a flexible schedule" is consistently number one, but this year "not having to commute" entered the top 3 for the first time. The result? 80% of respondents say they work mostly from home. Co-working spaces are on the decline (less than 10% say it's their primary work location), mostly because they're located in downtown areas. Local coffee shops and suburban co-working options are ones to watch.
The majority of organizations with remote workers don't pay for monthly expenses associated with remote work, although they are more likely to pay for one-off expenses like setting up a home office.
Innocence vs Power
This shows a reconciliation of apparent opposites – innocence and power. The X axis is both power and time.
As you get older, you accumulate power and lose innocence. The peak of innocence lost is just after puberty, as you enter adulthood. This is the inflection point. As you continue to accrue power (e.g. in your job, your business, or from the responsibility of being a parent), innocence is the variable.
The idea is most adults fail to reclaim innocence, so end up in the Southeast quadrant with only power.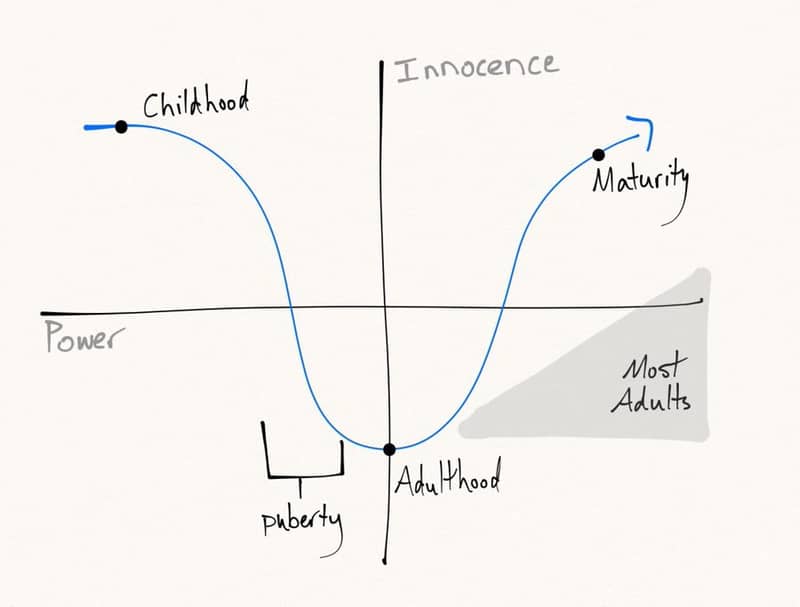 What are some good ways to reclaim innocence in your experience?
This email newsletter was originally shared with subscribers on February 20th, 2020. To receive the latest newsletters twice a month, sign up below!