Inside this Sunday:
I'm reading about basic assumptions, organizational culture and hiring & developing talent.
I'm working on the pre-launch of my new course (+ special incentives for you, my subscribers).
I'm thinking about your company culture.
Happy Thanksgiving to all my American readers. Jill cooked a delicious spread for the 7 of us gathered for a day of family, food and football. It's probably my favorite holiday in my adopted country, and this one marked the 400th anniversary of what historians consider the first Thanksgiving in 1621, when the Mayflower pilgrims who founded the Plymouth Colony in Massachusetts sat down for a three-day meal with the local indigenous Wampanoag tribe.
Come for the insights on learning, stay for the American history interludes.
This week I want to talk about looking at organizations as systems when it comes to learning.
Companies today are suffering from a woeful lack of imagination when it comes to organizational learning.
This is rarely the fault of the learning department.
It starts with the business shifting the burden to L&D ("this is what we are paying you to do") when its learners doing the learning. Cause and effect are not close in space and time.
L&D leaders know that slow and steady creates sustainable learning, but often don't have the luxury of time for the compounding effects of their work to pay off.
So they do the most visible thing they can do – they organize wonderfully thought-out learning interventions.
Here is where the fundamental problem takes root.
Too many interventions shift the problem elsewhere. The default response when training needs are identified is usually to offer (or mandate) more training events. This results in too much broadcast, and not enough discovery, leaving gaps in understanding which are left uncovered.
Compensating feedback goes like this: poor performance or productivity results in more training events, which results in less time for doing, which results in worsening performance or productivity.
The easy way out ("what we always do") leads back in ("we must keep doing this") and so the cycle is never broken.
Systems thinking offers a way to break the cycle
The practice of systems thinking starts with understanding "feedback" – how actions can reinforce or counteract (balance) each other.
It builds to learning to recognize types of "structures" that recur again and again.
What is then required is to see how each player in the system interacts with the larger system. The players, in our case, are four:
Learners
Peers
Experts
Teachers
This is approach we are taking with the Curious Lion Learning Flywheel.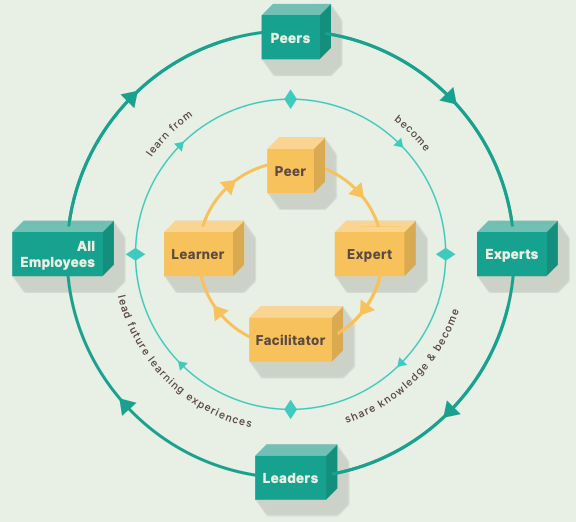 The great promise of the systems perspective is the unification of knowledge across all fields. This is exactly what we saw when we rolled this out at PagerDuty: functional leaders coming together to share challenges and crowdsource solutions that surfaced cross-functional insights that were not explicit before.
There is a lot more nuance and depth to this, too much to cover in a newsletter.
But this is exactly what we'll be unpacking for attendees of our first-ever cohort of The Learning Culture Experience.
I'm beyond excited to launch this next week, but as a reader of this newsletter, I'm offering you a chance to apply early and get a special discount as a thank you for being part of the journey.
Reply with "learning culture" to find out more.
See you in two weeks,
---
Our very own page outlining our Curious Lion Learning Flywheel methodology came in tops as the most clicked link last week.
---
Basic Assumptions
My friend, Paul Millerd, sent me an old essay of his when I showed him the landing page for The Learning Culture Experience. It clicked for me right away (to the extent that I want Paul to come present it to the first class). The article is on the thinking of Edgar Schein, former MIT professor known for his thinking on career development and organizational culture.
In attempting to change any culture, one must first understand it. Schein's work helps us diagnose it.
The part that jumped out at me was where he defines organizational culture as the "pattern of basic assumptions that a given group has invented, discovered, or developed in learning to cope with its problems of external adaptation and internal integration."
Basic assumptions inform the day-to-day decisions people make, for example, "it's best to speak my mind when I don't agree with something".
This dovetails with my work on the Learning Flywheel, because it's in bringing people together to learn that they (and the facilitators if they're paying attention) uncover the basic assumptions they're making.
It's from this knowledge that they can begin to shape the learning culture of their organization.
And as Schein warns us, learning is not a top-down directive. Culture is perpetually being formed in the sense that there is constantly some sort of learning going on.
Why not, then, create the space for it to happen in a way that contributes organically to the growth of the company's culture?
Talent is the Best Asset Class
This essay pairs well a 2019 conversation between Tim Ferris and Graham Duncan, the co-founder of East Rock Capital, an investment firm with $2 billion in assets under management.
In this conversation, Duncan shares incredible insights from his genius: an ability to identify talent and place it in the right context for it (and his business) to thrive.
A killer takeaway for me – the key characteristics he looks for in hires:
The ability to hold the tension between being aggressive and humility.
A sheer quantity of ideas developed through original thinking (they don't all have to be good).
The ability to triage and kill bad ideas.
Check out the full conversation
---
The Learning Culture Experience
🚀Official Launch🚀
Next week I'm officially launching my brand new online course on how to transform the way your people learn.
For the past 12-15 months I've been focusing on individual creators as teachers.
It's time to return to what I'm perhaps best at: learning within companies.
Read my manifesto at the bottom of the landing page, together with the problem I'm looking to solve (told throughout the page).
📆 The course starts on January 17, 2022
🏷 The early-bird price to join is $2,990 (your employer may be able to pay for this)
💫 As a thank you for being a subscriber to this newsletter, I'm offering 15% off and early application. Just hit reply with "learning culture" to find out more.
How Did You Learn That?
In ep 54, I channeled the wisdom of dozens of mentors as interviewed by my guest, Scott Jeffrey Miller.
In ep 55, I channeled the wisdom of 13 mentors I have interviewed over the course of How Did You Learn That.
This email newsletter was originally shared with subscribers on November 28th, 2021. To receive the latest newsletters twice a month, sign up below!