Good morning you courageous cutie!
Inside this Sunday:
We're reading about how to generate ideas and plan your ideal day.
We're working on improving the group learning experience.
We're thinking about being deeply committed to learning.
"There is ecstasy in paying attention." — Anne Lamott
My favorite part of my work at Curious Lion is the early, dew-on-the-ground stages of working with a client. Everything is new and fresh and the perfect word for it is Discovery.
This is where we get to employ a Beginner's Mindset as our clients explain their vision for training and take us through their content. I say "employ" because it is an intentional process. I'm onboarding a new team member right now and it's given me a great opportunity to reflect on what the intention and process look like.
The intention is to help our clients uncover unconscious blind spots or biases. To think like a learner and anticipate where the confusion may lie. To encourage a brain dump.
The process is to ask really good questions. My friend Jesse Desjardins is an expert at coming up with excellent questions. It's like a puzzle. Check out his website and scroll to the bottom for 10 questions that drive him to see what I mean.
It never ceases to excite me when I ask a great question that unlocks a stream of ideas from a client. You can see the energy in their body language, hear it in their voice, when they realize the power of their idea and can hardly speak fast enough to get all the precious freshness out before it somehow gets stale or evaporates completely.
The beauty is it's their idea! Not mine. It's pure and raw and exactly what we're looking for to help them make the best possible training.
The best part though?
All it takes is being curious.
Andrew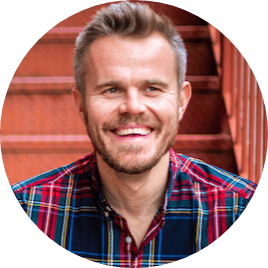 P.S. I published two articles I'm extremely proud of – why you need two types of groups to experience transformational learning and for the learning architects out there, how to design world class group learning. If you enjoy them, please share with your network. It would mean the world to me. ?
---
MOST CLICKS
Most popular by quite a bit was Frank Bruni's 2015 NY Times article on the Myth of Quality Time.
---
I'M READING
?How To Generate Ideas
If you want to get better at coming up with ideas, then read Sam Altman's notes from a talk he gave in China in 2018.
It's very practical, and since I've been thinking about group learning so much, these takeaways really stood out for me.
To get better at generating ideas you want to be around people who:
are optimistic
don't have a lot of filters
have a very high idea flux
are smart in a creative way
have a good feel for the future
will entertain improbable plans
don't care too much what other people think
think without the constraints most people have
don't make you feel stupid for mentioning a bad idea.
?How To Plan Your Ideal Day
I was talking to one of my team members this week about setting yourself up for success at the beginning of each day and it reminded me of this article I read by Taylor Pearson.
He does a great job quickly summarizing the daily routines of artists, scientists, and entrepreneurs and then using that to lay out his daily plan.
While Taylor's plan may be overkill for you, I'm sure you'll find at least one good nugget in here to apply to a routine that works for you.
Some of my favorite nuggets:
Scheduling time for Maker work and Manager work.
Writing down my biggest priority for tomorrow at the end of today.
Disengaging completely between tasks (often over meals) to avoid the "grey zone" of thinking about work without actually achieving anything.
---
I'M WORKING ON
?Why You Need a Destination Group and a Journey Group
I wrote last time about how 11 fine humans (some strangers) came together on Twitter to give me feedback on an article I was working on. Well, the improvement was hard to believe. The article turned into two and I clarified who I was writing for. This made all the difference.
This first article is for anyone who has dropped out of a learning experience when it got too hard, or starts a bunch of courses and never seems to finish them. This is about the power of group learning and why you need two types of groups to help you make the transformation you're striving for.
Please consider sharing this article with your network to help me get the idea of Destination and Journey Groups out there!
?How To Design Transformational Group Learning
The second article is for learning designers, course creators and community builders.
It distills my experience and the results of countless studies into 8 levers you can use to create the perfect group learning experience.
Please share this with anyone you know creating group training and tell them to reach out!
?‍♂️More Reflection Time
We've been including more deliberate opportunities for reflection in the training programs we're building for clients.
Reflection time is when you really learn.

The moment you hear or read a really great idea is a WOW moment. But if you don't take the time to reflect on it, you risk losing it.
So I'm applying this to life too – taking the time to think and write about ideas I learn about is really helping me to internalize them.
---
I'M THINKING ABOUT
"Be deeply committed to learning and teaching, which means increasing my own expertise" – Bill Walsh
What are you learning right now?
What are you doing to "learn better"?
Hit reply and let me know, I'll include some responses in the next edition.
This email newsletter was originally shared with subscribers on September 20th, 2020. To receive the latest newsletters twice a month, sign up below!