Inside this Sunday:
I'm reading about the peculiar culture of Stripe.
I'm working on my new cohort, pricing, and category design.
I'm thinking about learning accountability.
Further down today's edition, you'll see an episode of the podcast I recorded with Nicolas Cole.
In it, we discussed the concept of category design.
It's impossible for me to do it justice in this newsletter, so definitely check out the conversation on Apple or Spotify.
It set off a chain of events that has resulted in a 3,300 word (and counting) article on what I see as the future of learning and development in teams.
Over the last two years, if you're in learning, you've become an expert at empathy, working from home, care, remote work technology, employee empowerment, and mental health. You've championed diversity and inclusion. You've improved the employee experience.
But you're constantly at the whim of the needs of the business and a management group that thinks training is the top-down creation of events and courses that will magically fix real business issues.
I'm seeing companies where the opposite is taking place.
Where employees learn from each other, in learning cohorts.
Where they fall over themselves to be volunteer experts and facilitators, to share their knowledge and experience with others.
Where they see themselves as lifelong learners.
They're doing this thanks to Cohort Learning Experiences (or CLXs).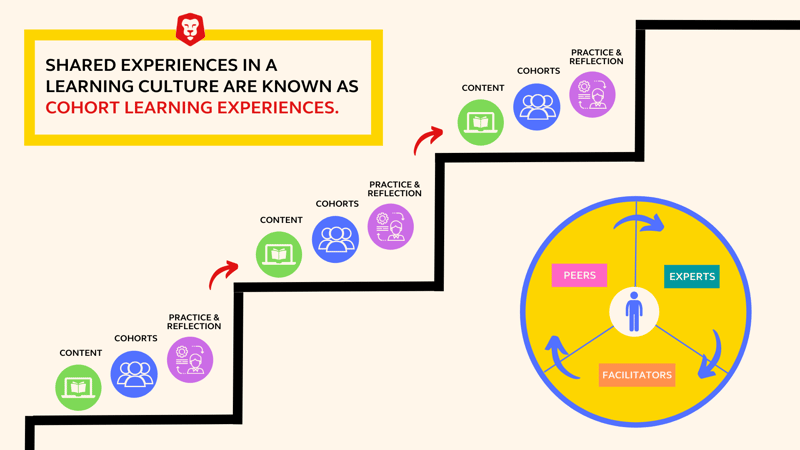 It's mission-critical.
Companies are like communities. If people don't feel like they belong, they'll move to another community. The business risk, of course, is that institutional knowledge may be lost forever.
Transfer of Institutional Core Knowledge (TRICK) should be a business imperative.
CLXs facilitate this changing of the guard, with leaders teaching leaders, and knowledge sharing occurring across functions.
I'll be sharing the published vision soon.
Of course, it's all driving The Learning Culture Experience launching on April 11.
And it's what I'm dedicating the rest of my professional life to solve.
See you in two weeks ✌️
---
Hundreds of you clicked my 2021 Year In Review essay, and I got some amazing responses from some. Thank you for that, I'm glad it resonated and hopefully inspired many of you to do formal annual reviews, and a few of you to publish them online.
---
Stripe: Thinking Like a Civilization
This in-depth tome on one of the world's largest private companies, Stripe, is a masterpiece for anyone looking to understand the behemoth and its humble origins.
Irish entrepreneur brothers John and Patrick Collison founded Stripe in Palo Alto, California, in 2009.
John was 19. Patrick, 21.
Today the brothers are both billionaires and employ more than 4,000 people (as of May 2021).
They got started… by just starting. Not asking for permission.
Even great founders take years to internalize the fact that entrepreneurship is permissionless, an open door that anyone, no matter how junior, can walk through, and that no shame will (or should) cling or mark those that venture and fail.

What was especially fascinating for me, was their company culture.
The first, most striking feature, is their abundance mindset.
Patrick has a familiar refrain: As Stripe grows, we want to avoid the "we must win everything" mindset that can easily set in. We'd rather help enable a successful ecosystem… it's a big, abundant world out there.
Despite employing over 4,000 people, they are actually very lean for their size. This is intentional.
Patrick notes the somewhat counter-intuitive truth that companies often slow down as they scale headcount… Maintaining a small team does seem to have been a priority for much of Stripe's existence. That has likely been a key part of cementing the positive aspects of the company's culture, even as it potentially creates a high-pressure environment.
And their approach to hiring is incredibly creative. They have a notoriously long hiring process. Again, this is intentional.
Employees — particularly managers — bring more employees with them over the years. Taking the time to find someone truly exceptional, though painful in the short term, compounds year after year.
Those are just a few of the gems revealed in this well-researched and exceptionally well-written article.
Well worth a read.
👉Read the full article on Stripe.
---
The Learning Culture Experience
We got our first official member this past week. Welcome, Kim!
Applications are rolling in and I'm interviewing everyone to make this the best community possible.
I'm also doing a live webinar on Feb 17 – you can register here to learn more about the program.
Please share this with anyone you know responsible for learning in teams.
How To Price Your Online Course
I went down a 20-hour rabbit hole researching everything I could find about pricing.
I intended to write a comprehensive playbook on pricing for course creators.
I did not imagine it would lead me to change the price of my own course.
I ended up doing both.
How Did You Learn That?
In ep 60, I geeked out on category design with Nicolas Cole. If you want to learn how to change the world, you need to listen to this episode.
---
You're less likely to ghost learning or personal development commitments when you're accountable for doing it with others. We're seeing this with the 5 AM Club. Find your community.
This email newsletter was originally shared with subscribers on January 16th, 2022. To receive the latest newsletters twice a month, sign up below!