Inside this Sunday:
I'm reading about teaching smart people how to learn.
I'm working on Learning Culture content.
I'm thinking about building in person.
Happy Sunday.
We've been working hard behind the scenes on two new initiatives, I can't wait to share them with you today.
Newsletter Overhaul
I want to know what goals you have in mind so I can better serve you useful content in these emails.
You can help by taking 15 seconds to let me know what you're interested in.
Here's your 15-second to-do.
Free Live Event
We're launching a free live event in May that we think is going to rock the corporate learning world.
I've included more details about it below, but if you're interested, here's the registration link:
✅ Learn more & reserve your spot
Enjoy the rest of your Sunday, see you in two weeks ✌️
p.s. when you're ready to dive deeper into Learning Culture, there are three ways I can help you:
Download our free eBook – chart the path to a new role: the Learning Culture Officer.
Join our Learning Experience – a live learning community to help you cultivate a Learning Culture at your company.
Work with our team – fill out a quick form to see if we can partner on taking your Learning Culture to the next level.
MOST CLICKS
The link with the most clicks from the last newsletter was Angus Fletcher's method for teaching creativity.
Well worth a read if you're curious how creativity finds its way beyond artistry and into problem-solving, visioning, and managing teams.
I'M READING
Teaching Smart People How To Learn
I came across a gem this week.
It's a 1991 HBR article by Chris Argyris, in which he introduces the concepts of single-loop and double-loop learning.
Here's an analogy:
A thermostat set to automatically turn on the heat whenever the temperature drops below 68F is single-loop learning. A thermostat that asks "why 68F?" and then explores whether or not some other temperature might more economically achieve the goal of heating the room is double-loop learning.
In the workplace, companies that are Unbeatable Learning Machines have more people engaged in double-loop learning.
The Problem
The problem is that most high-performing professionals have never experienced failure. They've excelled since high school in most cases.
But failure trips the wire of the thermostat, presenting an opportunity for double-loop learning (thanks to a dose of metanoia).
Instead of embracing failure, the tendency is to become defensive and play the blame game.
The problem with blaming things outside yourself is not that it's wrong (it may even be accurate), but that it's not useful. It brings learning to a grinding halt. It focuses on things you cannot control.
The Solution
There is often a gap between what we say we do (Argryis calls this "espoused theory of action") and what we actually do ("theory-in-use").

If learning is to persist, managers and employees must look inward to understand this gap and resist defensive reasoning.

Despite the strength of defensive reasoning, people genuinely strive to produce what they intend. They value acting competently. Companies can use these universal tendencies to teach people how to reason in a new way.

Change must start at the top. The first step is for senior leadership to examine critically and change their own theories-in-use.

The key to any educational experience designed to achieve this is to connect the program to real business problems (there is an excellent case study in the article to illustrate this).
Argyris observed five fascinating outcomes of this approach. Here are my three favorites:
People begin to realize that the belief they needed to hide important feelings and ideas from others is mistaken.
People encourage each other to question their own reasoning, not as a sign of mistrust, but as a valuable opportunity for learning.

People begin to see the moral imperative at the core of all of this: taking individual responsibility for the problems we face.

I'M WORKING ON
The Learning Culture Podcast
We've released 3 new episodes for you to enjoy!
Phylicia Jones, on Developing The Whole Human to understand and develop others' potential.
Maya Huber, on Skills-Based Hiring to solve the problem of degree-based filters unintentionally ruling out strong job candidates.
The Fifth Discipline, part 2 of my audio essay summary of the incredible book by Peter Senge.
Please take a moment to follow and subscribe so you don't miss the next episode.
🌟 Open on Apple or Spotify on your phone to leave a rating!
The Learning Culture Letter
I sent out one new issue:
Metanoia – the shadowy goddess of generative learning.
👉 Click here to subscribe for the latest on learning culture.
The Learning Culture Summit
We have an epic lineup of speakers for our brand new event.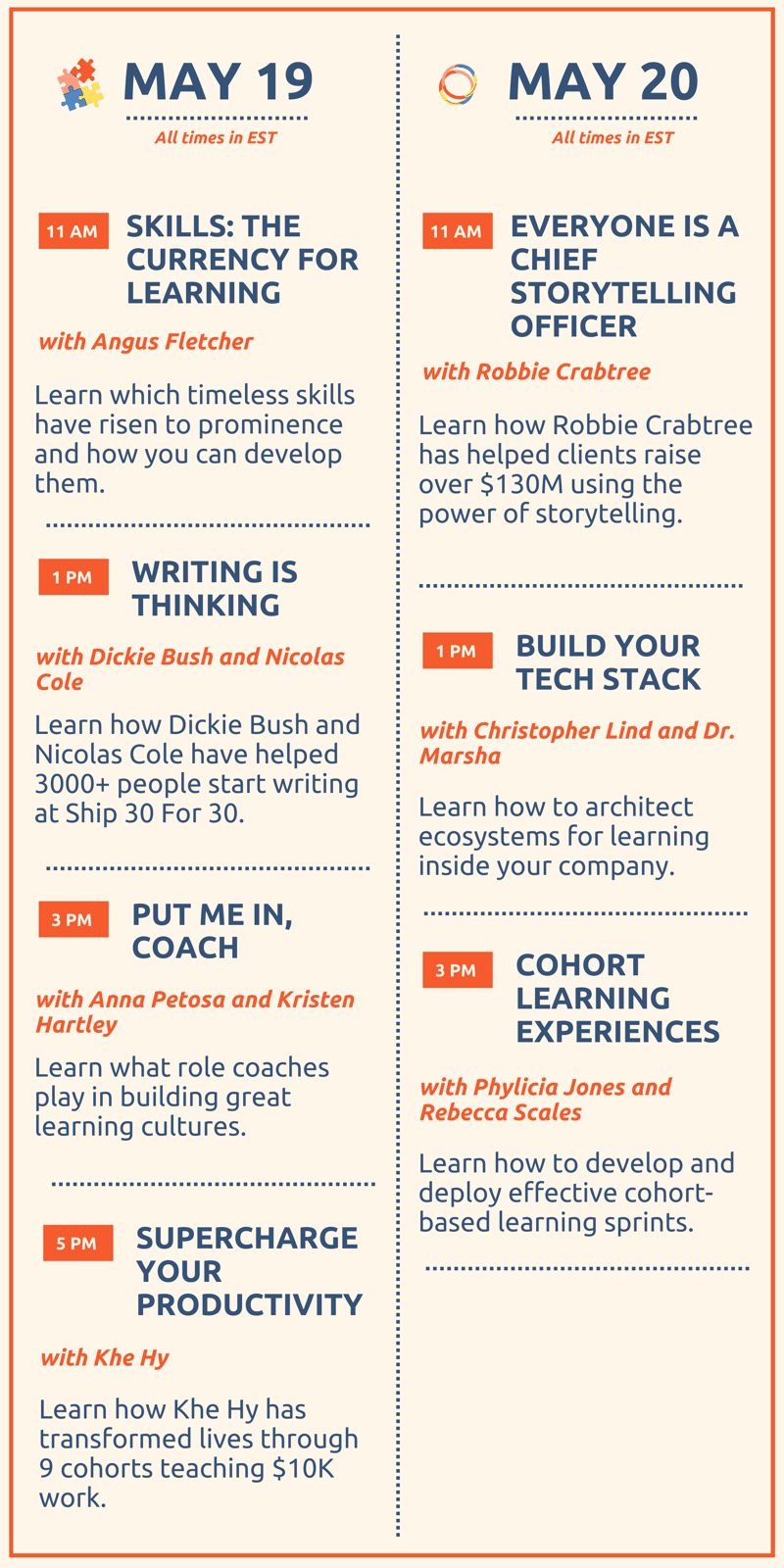 👉 Learn more and reserve your spot
I'M THINKING ABOUT
I talk a lot about building in public, but there is nothing quite like building in person. This was our week, workshopping details for the Summit.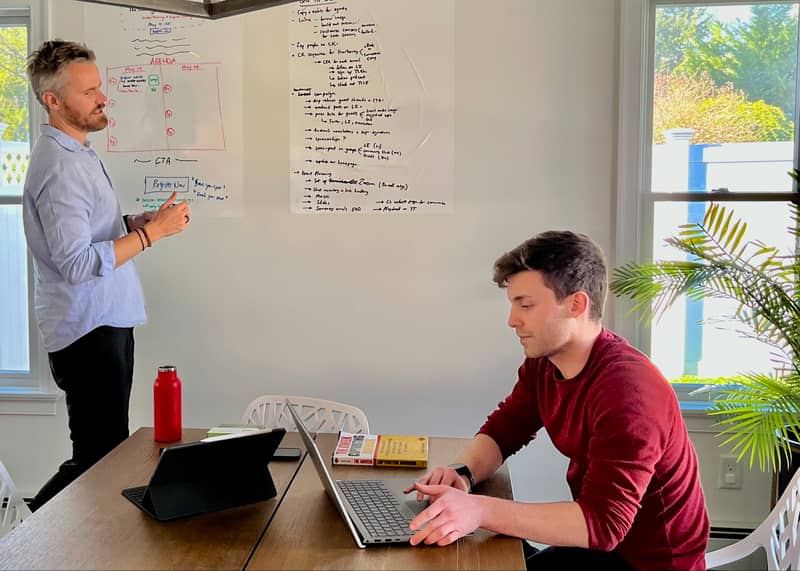 This email newsletter was originally shared with subscribers on April 24th, 2022. To receive the latest newsletters twice a month, sign up below!