Inside this Sunday:
I'm reading about 18 career trends for 2022.
I'm working on my new corporate learning experience.
I'm thinking about what it takes to outperform your competitors.
Consider these stats about corporate learning in the US:
Companies spend over $360B (growing by almost 8% a year) on corporate learning.
32% of the entire payroll budget is spent on benefits and most companies are totally redesigning them to improve healthcare, flexibility, and education.
Now consider this:
11% of companies offer formal career programs for employees.
10% have managed to create Learning Cultures.
20% of employees demonstrate effective learning behaviors at work.
Companies are scrambling to keep up with the demand for professional development.
In many cases, the only opportunity to grow is by leaving.
Making this even more challenging:
70% of all training comes from people inside a company, not professional teachers or instructional designers
More than 45% of employees now work remotely.
For years companies have been debating what to do about engagement and retention as if it's a part-time problem for HR to worry about.
Today this is a CEO-level issue.
Taking care of employees is the number one thing executives must do to retain their top performers.
I'm convinced that the best way to do this is to develop a Learning Culture.
Learning Cultures are characterized by innovation and adaptability.
They're anti-fragile.
Remember "The Xerox Way" or "The Toyota Way"? These worked well for these companies while things were going well. But then digital transformation and electric cars came along and changed the game.
The biggest threat from not having a Learning Culture is not failure.
Its success.
So What Is a Learning Culture?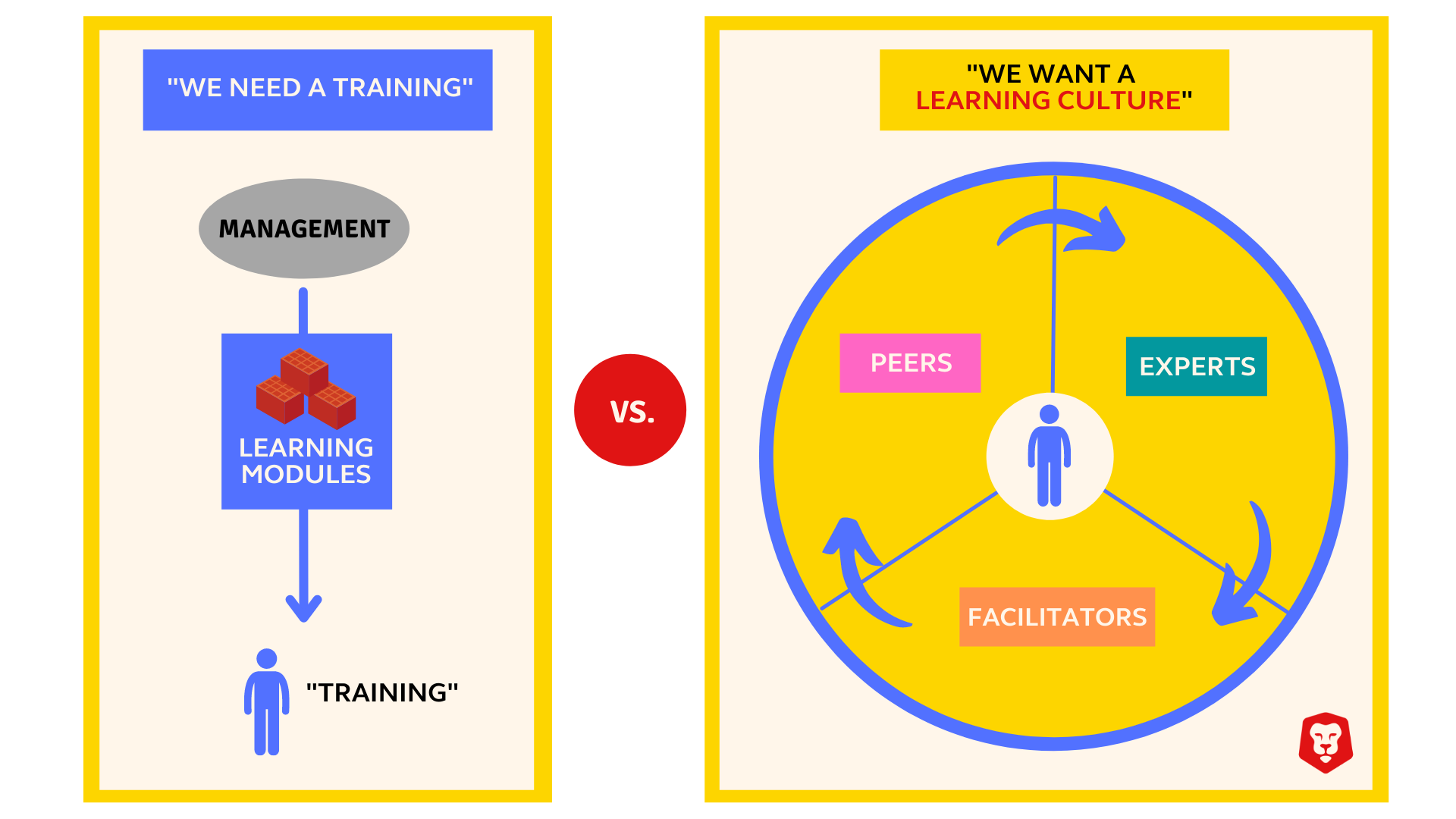 It's the difference between top-down information transfer and holistic learner transformation.
It's made up of 4 elements, which you can think of as phases for creating a Learning Culture.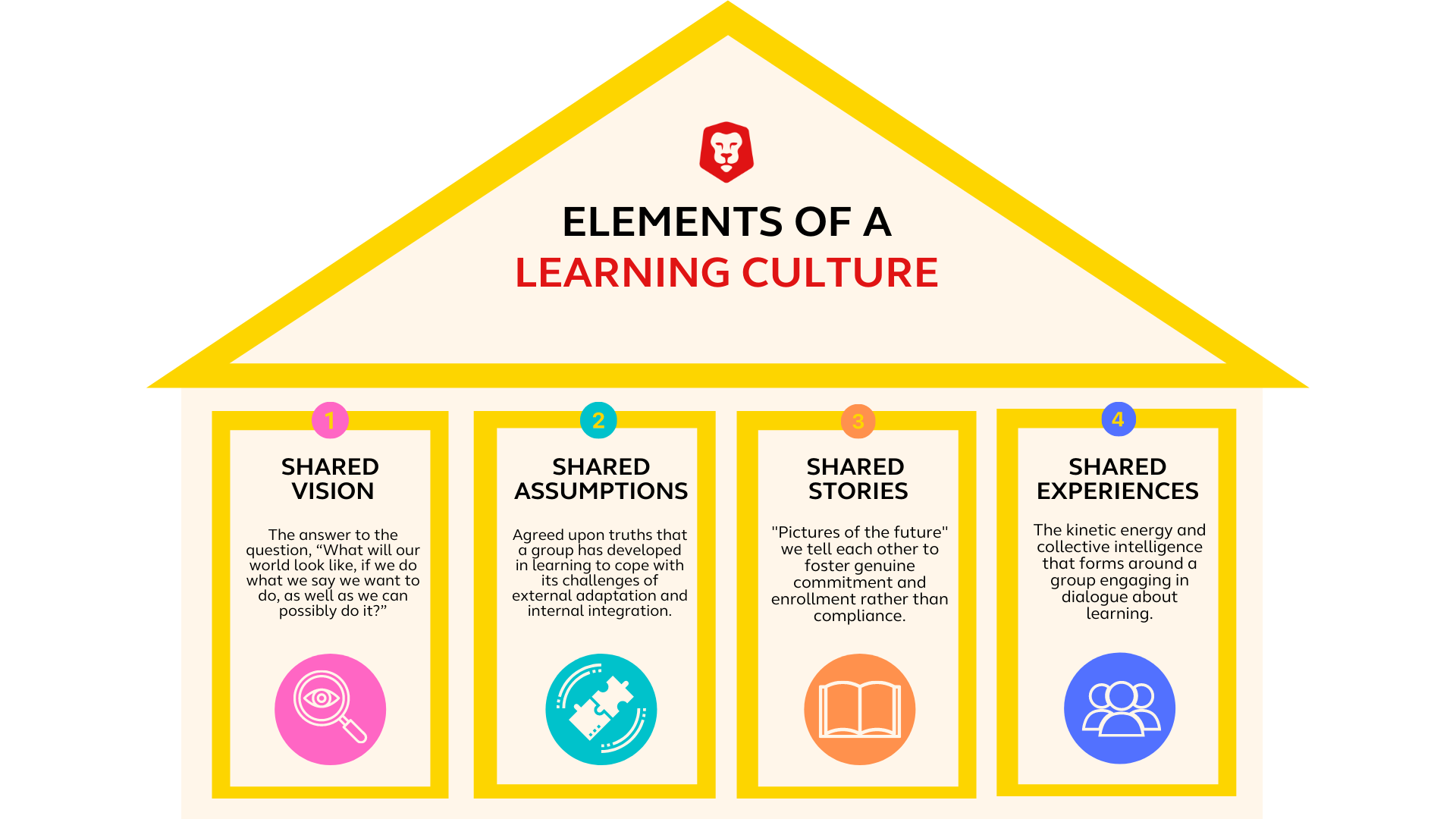 At Curious Lion, we're experts in the 4th element, with our Learning Flywheel approach – our proprietary method for creating Cohort Learning Experiences (CLXs).
We're partnering with experts in the other 3 elements on future engagements because I'm finding that companies simply don't have those things in place yet.
How To Create A Learning Culture
We have researched extensively in this area and I'll be writing more on this in the coming weeks, but a few key things you can start doing now:
Remove obstacles to learning, like ego, fear and complacency.
Cultivate a growth mindset (hire for this too).
Encourage candor and dissent.
Teach "how" not "what."
Secure C-level buy-in.
Josh Bersin research on companies with high impact learning cultures showed:
they outperform with profit growth 3X greater than competitors.
they shifted from a pure focus on "training programs" to "organizational capability development."
they invested in the re-skilling of their L&D professionals.
If you can keep your employees current and skilled, you can evolve and perform better than your competitors. As American Express found from surveying their 60,000+ workforce, "When employees are consistently learning, they are happy."
Happy employees tend to stick around.
See you in two weeks,
---
The most popular link last edition of this newsletter was for my new course, The Learning Culture Experience. This week I updated the curriculum, so check it out!
---
18 Trends That Will Shape Our Careers in 2022
I was fortunate to be a contributor to a wonderful collection of ideas and predictions for what work and careers will look like in 2022.
I wrote about the integration of work and learning.
L&D departments convince employees to take time from work to consume passive content, delivered in a top-down approach. The problem is – we don't learn like that. We learn best by following our curiosity and connecting with others on a similar journey.
Winning companies in 2022 will integrate work and learning using Cohort Learning Experiences (CLXs).
Here are 3 of my favorite trends from the other contributors:
Our jobs are only one small part of our overall story – the writing we publish, talks we give, boards we join and companies we advise no longer compete with our "work". They enhance it. (from Deborah Liu, CEO of Ancestry)
When it comes to Hybrid Work, you can't take a 20-person staff meeting and simply flip it into a Zoom call. The new normal has challenged companies to reconsider how they organize, collaborate, and communicate. Over time, it would not be surprising to see this skillset formalized into a specialized function, like Chief Workflow Officer. (from Khe Hy, CEO & Founder of RadReads)
Remote work has drastically changed how we interact with our professional networks. We find ourselves engaging in niche online communities more than ever before. Online communities will become a critical element of career progression and talent sourcing. (from Kai Han, Founder & CEO of Pallet)
---
The Learning Culture Experience
I've been having incredible conversations with learning professionals for the past two weeks!
Everyone I talk to is immediately excited about it.
Check out the enthusiasm from confirmed Founding members so far:
The comments/reactions on these posts are wild!
If you're interested in getting involved, I've included more details below.
If you know anyone in an L&D role, please forward this email and tell them to check this out!
How Did You Learn That?
In ep 56, I hosted a debate between Paul Millerd and Steve Schlafman on finding space between work to experiment with life.
In ep 57, learned about the fascinating concept of multidimensional health from Dr. Nadine Kelly.
This email newsletter was originally shared with subscribers on December 12th, 2021. To receive the latest newsletters twice a month, sign up below!