I stared at him, unable to control my frustration, boiling over into anger. Real anger. I could feel it bubbling up. Irrational anger.
He just pooped himself for the third time in an hour and wouldn't go to sleep.
…
I look back on these moments soon after my son has gone to sleep. He's the most adorable thing in the world (especially when he's asleep) and I hate myself for who I am in those moments of anger. It's completely irrational. I know that. I know it in the moment too. But I still feel it.
I mentioned this to a friend of mine and he said he experienced the same thing with his son a year ago (phew, I'm not the only monster out there). When I step back from it I realize that those moments of despair, when you're holding a crying baby and there is nothing in the world you can do to make it stop, are moments of despair at not being in control.
I'm so used to being mostly in control that the feeling is completely foreign. And like most things foreign, they're a shock to the system. Unpleasant shocks cause us to lash out in anger or frustration.
When you step back from it, you realize it passes. Like all things, it passes and your mind relaxes and starts to think about the exciting milestones you have to look forward to.
I think this is true for all moments of crisis and panic.
A recent client project was on the brink of imploding. A week ago I was sure it was termination time. This week we've got a roadmap to an even better final product.
The coronavirus brings a brutal daily barrage of bad news. But stepping back, there are green shoots and positive life changes that are coming from it.
It's easy to get bogged down in the emotions of the moment when things are not going well.
Thinking long-term brings the benefit of perspective. Timeframes matter. We see the bigger picture and realize, hey, he's just a baby. You're lucky he didn't poop on you.
Till next time, stay safe.
Andrew
P.S. it's Sunday and you're not used to getting this email today, right? I'm changing things up a little. I want this letter to feel like reading the Sunday morning newspaper as I remember as a kid – slow and relaxing. I save all newsletters now to read on a Sunday morning. You'll get this one fresh on Sundays, so you can enjoy it slowly too.
---
MOST CLICKED LINK
In this new section I'll share the most clicked link from the last email.
Two weeks ago, it was the learning design piece on the cognitive theory of multimedia learning, which had 30% more clicks than the 2nd most popular link.
---
COOL THINGS FROM ACROSS THE WEB
Kids at home during corona
For those of you with young kids running rampant at home in need of home-schooling, Shane Parrish from Farnham Street fame started a pop-up school for his kids and those of friends and fans of his blog. It's been gaining in popularity and this past week was really cool. They had lessons on:
Poker
Programming
Cyber Security
Using Python's Turtle to draw
Yoga and Mindfullness.
I watched the lesson on poker by Maria Konnikova and I really enjoyed her perspective on life, risk and decision-making (this part was at 39:30 in the lesson), so it's not just for kids.
Travel posters to remind you to stay at home
Designer Jennifer Baer was frustrated at seeing people out and about despite social distancing. She channeled this energy into creating three vintage-inspired posters feature the messages, "Surf Your Couch," "Visit Your One House Plant," and "Take a Trip to Your Own Bathroom".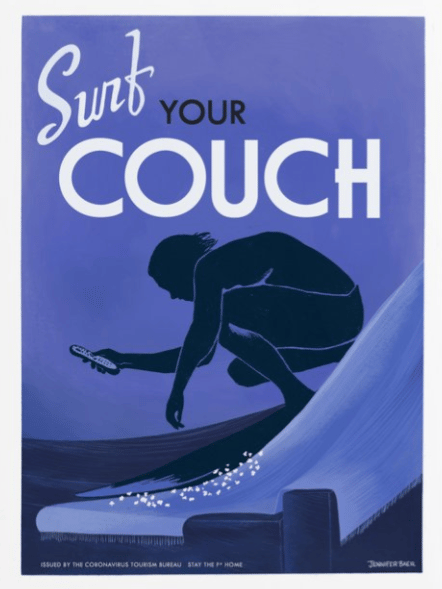 You can get these illustrations on all sorts of memorabilia from her portfolio.
---
LONGER FORM
"How do you create really good digital training?"
If you need to scale your digital training or start from scratch because you can no longer train in person, then I've spent the last 10 days writing for you.
5 steps for creating digital training – are you missing any?

This is my manifesto. This is everything I know and apply on a daily basis about creating digital training at scale. Please share this with anyone trying to figure out how to create digital training, I'm willing to guarantee they'll get value from this.

Confessions from a Talent Development Professional – Part 1

My client, PagerDuty, and I teamed up to create a 3-part series on how we met, and how we partnered to scale their digital training offerings. Please like and share if you enjoyed this!
---
SOMETHING I'M THINKING ABOUT
You are your highest returning asset.
In these quarantine times, we have more time at home to invest in ourselves. Read a new book. Learn to cook. Take an online course.
As this tweet sums up so well:
It is important to invest in yourself, for you are your highest returning asset.

And every bit of time and attention you put into growing yourself compounds.

Then everyone calls you lucky.
— LifeMathMoney (@LifeMathMoney) July 7, 2019
This email newsletter was originally shared with subscribers on April 19th, 2020. To receive the latest newsletters twice a month, sign up below!