I just completed my busiest month of the year so far.
That was mostly from being a mentor for Write of Passage. I learned so much from this experience, and now's the time to reflect. You'll see a lot of these lessons come through in my writing in the coming months, as well as the work we're doing for Curious Lion, which I'm especially excited about.
One of my big takeaways was a discussion about the difference between newsletters and blog posts.
Newsletters should be like postcards: short, and a reflection of thoughts.
Blog posts should go deeper in a long-form essay format. I've tended to do that in my newsletters. And while you may enjoy that about this email every other Sunday, it does constrain me in exploring some topics. So from now on, I'm going to write shorter newsletters and longer blog posts. I'll announce the blog posts through the newsletter so you won't miss anything.
With that said, this week I wrote about big decisions. We can be paralyzed by them, when it's actually the tiny decisions that ultimately result in the outcomes we experience as our lives.
For example, my current life: American citizen, married with a young son, and running my own businesses.
If you told 24 year old Andrew this would be his life at 37 he'd have laughed at you, and walked off barefoot to his next lecture at the University of Cape Town.
What decisions led me here? Too many, tiny, imperceptible-at-the-time decisions. Sure, there was the decision to come to America with KPMG. But that was made easier by only agreeing to a two-year secondment. They kept a job open for me back in South Africa! It never felt irrevocable.
And yet here I am, still in America, happily married with a family and loving every minute of working for myself.
Don't let the specter of big decisions prevent you from taking action.
Focus on tuning your compass and get moving, baby!
Until next time, stay safe.
Andrew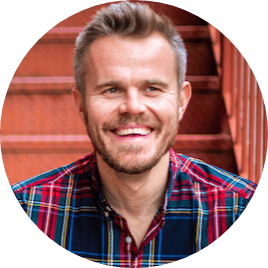 P.S. We grew from 627 to 662 subscribers since the last edition. Thank you to everyone who shared. ? If you enjoyed this week, please think of one person who might also and smash that forward button. Thank you!
---
MOST CLICKS
My article on my writing process. I had a lot of questions about this too and covered a few of them on the podcast with Brandon (more below).
---
I'M READING
?Lessons From the Plague
The Aquila Report had an excellent article back in May about plagues in history reflected through literature. This is eerily similar to what we're seeing across the globe with Covid-19. I wonder if the deeper societal issues will one day outweigh the medical aspects of the pandemic we're living through?
Not only did the medical aspects of the plague play a rather minor role in the background of the narrative, but they served mainly as a disguise for a far more terrible threat—a complete sociological breakdown, and a "certain pervasive violence in our relationships."
?How to Make Wealth
Y-Combinator founder Paul Graham wrote an excellent essay on wealth building. My 4 main takeaways:
You need to be able to measure your performance and you need leverage.
Surround yourself with excellent people that fill a particular role on an all-star team.
Design a system for what you are building so that all the components can be repeated anywhere, by almost anyone.
Focus relentlessly on making customers happy.
Read more here and the full essay here.
❤️It Took Courage to Write This
Joe Balcom, one of the students from Write of Passage, wrote an astounding reflection of personal circumstances I could never fathom – living with two mentally ill parents. Joe's refreshing honesty will leave you filled with positivity after reading.
---
I'M WORKING ON
This is a new section that expands on sharing new posts on the Curious Lion blog.
This is where I'm going to work in public (and here is a fun look at how Kanye West created Life of Pablo in public from another Write of Passage student Andrew Yu).
I'm continuing to build my Learning Flywheel concept with two clients piloting ideas from this in the next few months. The real-world feedback is going to be invaluable.
In the meantime…
?Podcast Interview
I had the pleasure of chatting with Brandon Zhang on his Student Mindset podcast about my writing process, learning flywheels, and information capture.
?Award
We were delighted to be announced one of the Top Content Providers for Scenario-based Learning by eLearning Industry. I'm especially proud that they highlighted our "best-in-class content extraction" process as it's my favorite part of any project and what sets us and our client up for success every time.
✍Writing
One of the reasons we were nominated for scenario-based learning is the work we're doing with PagerDuty. This was one of my favorite posts to write as I got to do it with my client Phylicia Jones. Please enjoy, What It's Like to Work with Curious Lion.
---
I'M THINKING ABOUT
Something I'm working on getting better at.
What the really great artists do is they're entirely themselves. They've got their own vision, their own way of fracturing reality. And if it's authentic and true you will feel it in your nerve endings. – David Foster Wallace
This email newsletter was originally shared with subscribers on August 9th, 2020. To receive the latest newsletters twice a month, sign up below!