< Good morning my friend!
Inside this Sunday:
I'm reading about living a fulfilled life and why walking helps us think.
I'm working on a podcast, another award and an online course for public speaking.
I'm thinking about how we're living our lives.
But first, I want to tell you about a time I felt ashamed.
We were at one of the many epic music festivals I used to attend back when I had dreadlocks, went to college barefoot and thought I'd become a Woke CEO one day (I guess the CEO part happened?).
It was early in the morning. Dew was on the tents and a few stragglers were still looking for theirs. Everyone was in the process of waking up groggy and tired. I was feeling fresh, as I had to leave early that day so took it easy the night before.
Walking over to my friends' tent, I had this great idea to get them coffee, but for some reason I didn't. Arriving, I woke the two of them up gently.
We chatted, and at one point I blurted out, "oh, I was thinking about bringing you guys coffee," as if the thought of me doing so made me a better friend.
"So why didn't you?" my one friend replied.
I don't know why I didn't follow through. I wasn't a very good friend. I only had intentions.
Intentions without actions.
I remember feeling so ashamed.
I was reminded of this recently by what seems like a constant refrain on Twitter of "Just Do It." This is an excellent message to broadcast. Too many people I know have amazing ideas but are paralyzed. Some of them think they could never figure out how to do it. Others are too comfortable in unsatisfying, but high-paying jobs.
I've had two people ask me recently how I knew I was ready to start Curious Lion.
In hindsight, I didn't. What I thought I was starting was not what I'm doing now. I was just ready to back myself to figure things out, and be open to opportunities that came my way. It's scary, no doubt, jumping from the nest and learning to fly as you plummet. So do it in small steps. Don't think you need to be perfect right away. Don't think you need to replace all your income with your first idea.
Just do it.
If I had arrived with two steaming cups of coffee my friends would've been so much happier that fresh Cape Town morning.
Actions really do speak louder than words.
Execution is where the magic is.
See you in two weeks,
Andrew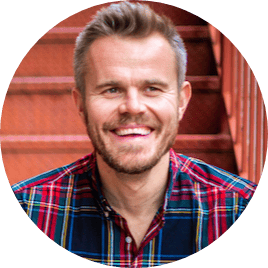 ---
MOST CLICKS
You curious folks dove head first into Jesse Desjardins personal website to check out his 10 questions that drive him (scroll to the bottom).
---
I'M READING
Eight Secrets to a (Fairly) Fulfilled Life
Oliver Burkeman's last column for the Guardian was a reflection on the lessons he's learned writing about Happiness through his unique "Anti-Positive Thinking" lens. A few of them really resonated for me:
There will always be too much to do – make a shift from trying to not neglect anything to choosing what to neglect in favor of what matters most.
When stumped by a life choice, choose "enlargement" over happiness, which I take to mean choosing learning and improvement. In other words, more optionality moving forward.
The solution to imposter syndrome is to realize that you are one. And to understand that everyone is just winging it.
Why Walking Helps Us Think
I posted this on Twitter this week.
Emerson said that the happiest person on Earth is the one who learns from nature the lessons of worship.

Go outside a lot and look up.
— Andrew Barry ? (@Bazzaruto) September 30, 2020
Check out the wonderful responses.
It reminds me of this article in the New Yorker that explores why walking helps us think. It's also full of great anecdotes like this one:
Virginia Woolf relished the creative energy of London's streets, describing it in her diary as "being on the highest crest of the biggest wave, right in the centre & swim of things." But she also depended on her walks through England's South Downs to "have space to spread my mind out in."
I feel the exact same way about New York – the City and the Park.
---
I'M WORKING ON
Award
My team and I are beyond thrilled to be included in eLearningIndustry.com's Watchlist of the Top Content Development Companies for 2020. We're not top 10. Yet. But we're coming for it.
"Take the top-class content development Curious Lion has become known for, add a structured approach to group learning, a methodology for empowering your experts to share knowledge, and a system that encourages everyone to be a teacher, and you get the power of the Flywheel."
Read our full write-up here (scroll down to the watchlist part, we're #5)
Podcast
I had the pleasure of spending 1h45m with Paul LeCrone on his Penguin Latte Podcast, and it was such a blast.
We talked about curiosity, flow, the value of time > money, heroes, books, human potential and South Africa. Paul gives an incredibly generous intro, and his questions show the level of research and thought he puts into his preparation. This was a fun one.
Performative Speaking
I'm about to start my third major online course for the year – Robbie Crabtree's new online course, Performative Speaking. I'll be joining him for the first ever cohort!
I've been speaking to Robbie ever since we completed Write of Passage together so I've seen this idea develop. I've seen his mastery of the performance art of speaking. I've watched him invest 16+ hours a day into building the course. And I've started to see how much he's pulled in the help of his community to build something truly special. Robbie is one of the most selflessness guys I've met, and now I'm realizing how many people are chipping in to help him design the course, and promote it.
Write of Passage was incredibly draining, but unbelievably transformative. I know this will be too, and I can't wait to get started on October 19!
---
I'M THINKING ABOUT
If you keep living the way you are, what will your life look like in 20 years? – James Clear
Hit reply and let me know your answer!
This email newsletter was originally shared with subscribers on October 4th, 2020. To receive the latest newsletters twice a month, sign up below!