A very good morning to you!
Inside this Sunday:
I'm reading about consensus and what enough wealth looks like.
I'm working on conversations with wrestlers and course creators.
I'm thinking about time-blocking.
I'm leaving On Deck.
Two weeks ago I wrote about ODCC wrapping up and shared reflections from alumni on the amazing experience we all shared together.
It was only January 10th when I shared the news with you that I was joining forces with On Deck.
I share this only to point out how little time has passed.
And yet how much has been accomplished.
Why am I leaving?
On Deck's recent $20M Series A raise gave the company plenty of ammunition for its ambitious goal of building the world's top startup talent ecosystem.
The emphasis on startup is key.
While programs like ODCC, and the other creator programs like On Deck for Performative Speaking, Writing and Podcasting, all resulted in transformations for the fellows enrolled, they required an adjacent focus.
Venture-backed companies cannot afford any kind of focus other than laser.
And so we mutually agreed to part ways after ODCC1.
In mid-January I talked about how, if you want to go far, go together.
By joining On Deck to launch the first iteration of my program for transformational online courses we hit some impressive scale:
150 fellows enrolled
Over $350K in revenue
Over $40K in scholarships awarded
The African proverb I wrote about in January is true. We went far together.
I'm going to take it a step further now, and once again, I won't be alone.
I'm partnering with Robbie Crabtree and Marie Poulin to launch the Course Creators Collective in August.
We have a simple landing page right now as the three of us are building behind the scenes.
Practicing what I preach, we're going to work with ODCC alumni who have pre-paid for the program to shape what it will eventually become.
If you're interested in hearing more about this, please click the link below. Your preferences will be saved and you'll start hearing from me outside of this Sunday newsletter.
Over the next two weeks, I'll be back to focusing on my own writing.
Get ready for fresh thoughts!
Till then,
Andrew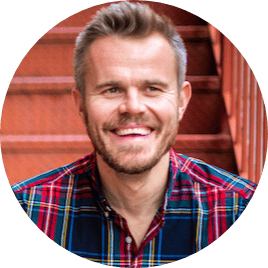 ---
MOST CLICKS
The most popular link last time was my friend Art Lapinsch's article on getting the most out of online courses.
---
I'M READING
The Power of Consensus
A friend of mine from Write of Passage, Shelby Smith, wrote an excellent piece on how the rise of cryptocurrency will influence the way we think about everything.
The part that stood out for me was this:
"I think what we're witnessing here is the birth of a new monetary base which is no longer based on fiat; it's based on consensus… this thing has value that can be stored online, digitally moved across borders, within seconds…"
What else will be based entirely on consensus moving forward?
The Meaning of Wealth
Ben Carlson delivers a great meditation on the question, "what is enough?"
"Being content with what you have is a sure sign you're living a rich life."
His point is that there will always be financial worries and you'll never feel like you've made enough money, if maximizing your money is your goal.
Instead, you should focus on controlling what you can control.
"There is nothing wrong with striving to do better and improve your lot in life. But if you can combine the desire to do better with the ability to be content with what you have, that's the sweet spot."
---
I'M WORKING ON
How Did You Learn That?
In ep 32 I entered the ring with professional wrestler and founder of Noowave Greg Frontiero. Greg's embracing of deliberate practice and work with mentors have served him well. Lots to learn in this one!
In ep 33 I welcome the first repeat guest on the show, Ali Abdaal. Ali has become a friend in the online course world and in this episode, with a live audience, we break down his lessons learned from his wildly popular course, Part-Time YouTuber Academy.
Course Creator Q&A
On July 8 I'm hosting a workshop with Marcio Santos, the man who helped Khe Hy have multiple 6-figure launches for Supercharge Your Productivity. This workshop will include digital marketing case studies and examples that you can apply immediately to your own online course.
Register for workshop (and please share this link with your course creator friends!)
Time Blocking
I recently completed an exercise in which I structured my calendar and my meeting booking links how I want them to be.
I've written before about how important it is to clarify your values and how my top value is freedom.
My goal with this exercise was to time-block my week for the things that were not negotiable (thinking, writing, exercise, time with my family etc.), and then provide as much flexibility for others looking to book time with me (clients, consulting, curiosity conversations, podcast recordings etc.)
This is what it looks like now.
Each of the green, yellow and red blocks are "hard-coded" into my calendar.
I converted the purple blocks into meeting booking links that don't overlap with each other.
Now I know how much time I'm allocating to clients of Curious Lion vs consulting clients of mine for example.
I'll report back how this goes!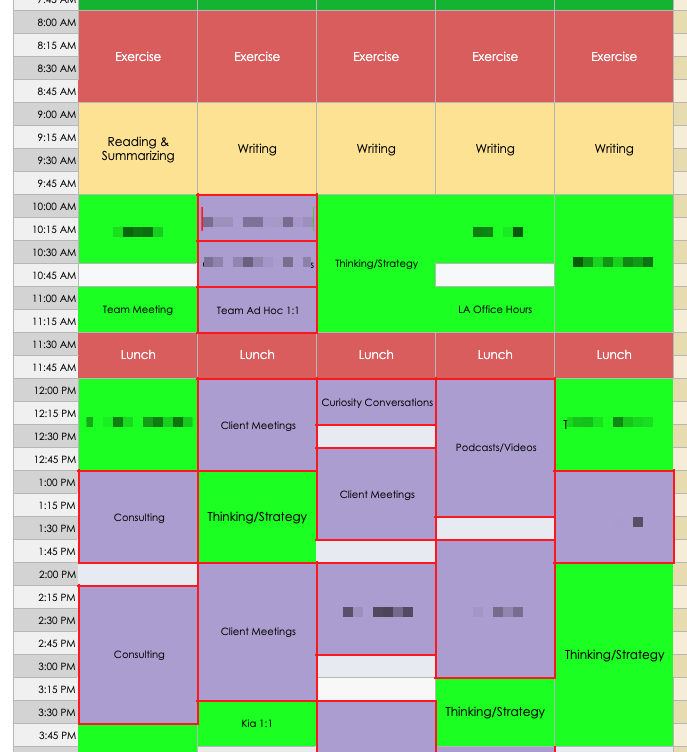 ---
I'M THINKING ABOUT
Have you tried time-blocking your calendar? Any lessons learned you can share with me?
This email newsletter was originally shared with subscribers on June 27th, 2021. To receive the latest newsletters twice a month, sign up below!