Good morning my friend!
Inside this Sunday:
I'm reading about becoming oversubscribed.
I'm working on the content machine.
I'm thinking about learning transformations.
What a wild week!
The first week of ODCC is in the books and, my friend, it could not have gone any better. I am so proud of this amazing community we're building.
We've had people launching their first-ever course, making their first money online, sharing incredible student transformations, and building in public – and it's only been one week!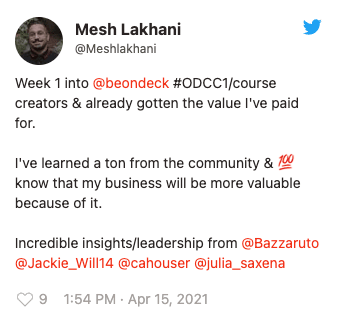 The spirit of service and inclusiveness has also been incredible to see. The way everyone is jumping in to help each other, meet with each other, and support each other online has been a great sign of what this first cohort will become known for.
This Tweet probably sums it up best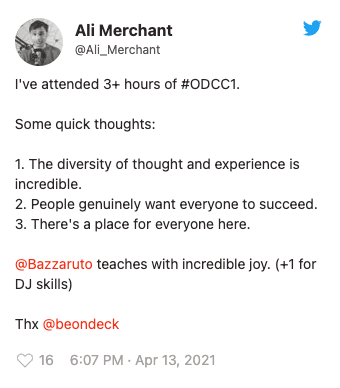 I'm having so much fun doing this!
Till next time,
Cheers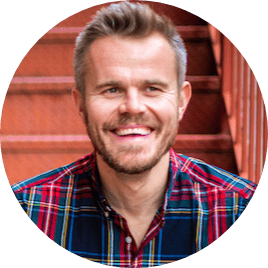 p.s. if you want to learn how August Bradley built a 25,000-subscriber community on YouTube in less than a year and turned it into a 6-figure course launch, come join us on Apr 26!
Click here to register –> https://lu.ma/CCAugust
---
MOST CLICKS
Happy to see the most popular link last time was Norman Tran's excellent Miro board summary of the Getting Together framework for building community. This has paid off in buckets for me this past week and Norman is consistently putting out amazing content.
---
I'M READING
Oversubscribed
I recently finished up Daniel Priestley's excellent book, Oversubscribed, which Ali Abdaal recommended to me as his most highlighted book.
Well, it was mine too.
Here are the cliff notes for the 8 principles of being oversubscribed in your business.
Only oversubscribed businesses make a profit

Your value is much higher than you think to a small number of people
Turn your attention to those people who find you highly valuable – and then serve them better than anyone else can
You'll need to get comfortable with some people missing out

The only people that matter are your people

Cultivate a tribe of fans who are loyal to your business
Separate them one by one from the market and make them part of something special
Lay the foundations for people to get to know you, like you, and trust you at scale

First make your market then make your sales

Take the time to educate or entertain people
Slow down and signal what you intend to do, adding value and intrigue as you do
Then ask them to signal their interest to you
Hold off trying to sell until you're sure that there's sufficient interest

People buy when the conditions are right

Make it obvious you're oversubscribed
Create your own rules about how people buy from you
Celebrate your clients
Rather than completing a transaction, then looking for the next buyer, take more time to care for the person who just bought from you
Need is logical and want is emotional. Emotions will win every time, even with the most intelligent people

Be different and set your own rules

If you do what others do, you'll get what others get
Only sharing the features, advantages, and benefits of your product boxes you in
When you share your philosophy you become a champion of a cause or a leader of a movement

Value is created in the ecosystem

Give people a low-risk first step to move them in the right direction to buy from you
When you are selling something of high value like the implementation of a full and remarkable solution, consider selling it in staged components

Meet people where they are

Conduct scorecards surveys, and quizzes to obtain access to unique data insights
The more data you collect, the less you need to spend on sales and marketing

Nothing beats being positively remarkable

Authentically care about what you do and be in a class of your own
Spend money on existing customers before prospective ones
Build and leverage your personal brand
We are hard-wired to trust and connect with faces, voices, body language, and words
If you build a remarkably trusted personal brand, people will naturally recommend you
---
I'M WORKING ON
How Did You Learn That? (Podcast)
In ep 22, I chatted to Amanda Natividad, the head of marketing at Growth Machine. This episode was a masterclass in content marketing, so if you're looking to grow your business or reach within your company, you'll enjoy Amanda's useful 3-part framework.
In ep 23, I chatted to Sahil Bloom, an investor, advisor, and educator of 177,000+ Twitter followers. Sahil grew his account from only 500 followers in May 2020 by providing insanely useful threads on things like options trading, Wall Street Bets, and the bond market. This episode gets into his framework for using Twitter to grow your brand.
The Weekly Teach (YouTube Series)
Our 11th video explores what it means to have a Teacher's Mindset, covering how to manage cognitive load, using a Beginner's Mind, and the Earned Dogmatism Effect.
Watch how to develop a Teacher's Mindset
Our 12th video… well, what can I say about our 12th video?
"We had a bit of fun with this one. Added some humor" – My production team, to me, about video 12.
Oh yeah, they did! I'm not even mad, I'm impressed! This one will also help you bring a Beginner's Mind to your online course.
Watch how to improve your course using a Beginner's Mind
---
I'M THINKING ABOUT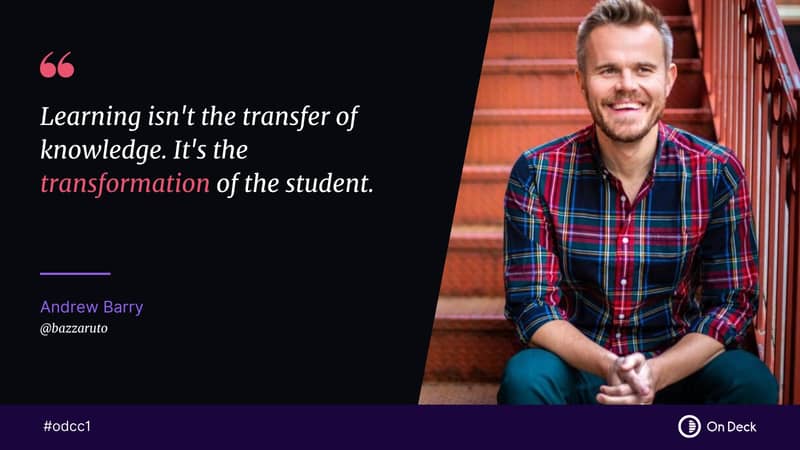 This was created by one of the fellows in ODCC. I love it. When have you seen this to be true in your own life? What examples have you seen of transformations?
This email newsletter was originally shared with subscribers on April 18th, 2021. To receive the latest newsletters twice a month, sign up below!