Hello friend!
Inside this Sunday:
I'm reading about serving somebody or serving everybody.
I'm working on lessons about investing, imposter syndrome, and course creation.
I'm thinking about product-market fit being emergent.
A warm welcome to the 46 of you that joined in the last two weeks. You're part of a community of 811 curious humans reading these Sunday missives.
As I sit here on Saturday morning, I'm reflecting on sharing with a few mentors and friends this week that I haven't spent a full weekend with my family since the start of the year.
This is almost exclusively down to announcing, launching, and building an 8-week online course for 150 people. Notice the order of activity there. I'm building after I launched, which is quite the challenge! But that's what you have to do when you go from zero to 100 in four months.
Don't get me wrong, I'm not complaining. I chose to do this, on top of running Curious Lion. As with anything new, it takes a monumental effort at first but should start to pay off over time. It's one of life's great ironies that when you're in your prime and have so many opportunities to explore, you're often also building a family, and want nothing more than to do the good kind of nothing with them. It's a bold balance to maintain.
Helping the matter, my wife Jill is now officially the Chief Operating Officer of Curious Lion (or COO of Learning, as she likes to say… COOL). This will no doubt bring challenges as we navigate work and family life together. But I signed a rockstar for the company. I'm excited to build it together with her.
Now, all we're waiting for is Leo to start contributing. 😊
Lots of good stuff below for you this week. Have a great Sunday and see you in two weeks!
Andrew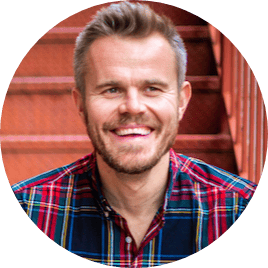 ---
MOST CLICKS
The last issue had a tie between two videos in the Weekly Teach YouTube series – the video on beginner's mind and the one on deliberate practice.
---
I'M READING
Be Something Or Be Everything
I was reading Erik Torenberg's latest article on The Death of the Middle, which looks at product-market fit through the lens of a barbell. In it he argues that to achieve product-market fit, "companies and their products must be so differentiated that no one else can copy them (the boutique coffee shop), or they must be "full-stack" and 100% exactly what we want (Starbucks)"
In building a business, or launching a side hustle, or even promoting a project within a company, you need to either be exactly what someone is looking for or have everything anyone could ever look for.
For me, it's an easy choice. I'm going hyper-specific, mainly because it allows me to do what I consider the fun part: work with individuals and be there to celebrate successes together. I could never build a company that caters to everyone. I'm here to partner with someone.
Pair Erik's article with Chris Sparks' excellent primer on how to build a service-based business.
---
I'M WORKING ON
In ep 26 I got the low-down on angel investing from Vikram Rajagopalan, who runs the Angel Investor fellowship for On Deck. This was a fascinating peek into the world of venture-backed companies and investing.
In ep 27 I got a therapy masterclass in combating imposter syndrome from the expert on the topic, Tanya Geisler. If you feel like an imposter, it's because you're doing something that matters and you're on the precipice of greatness.
The Weekly Teach (YouTube Series)
I did a video review of my entire process for creating the ODCC curriculum, including the Notion template I used to do it. Lots of good reflections in here for anyone working on a curriculum.
How I created the curriculum for ODCC
We don't buy products because of their features. We buy them because of the job they allow us to do. Online courses are the same. The secret to transforming students is connecting what they want with what you can teach them. But how do we make this happen? I created a video for that!
The secret to transforming students
---
I'M THINKING ABOUT
Product-market fit is emergent. My friend Joe Gannon was asking me about this as he builds out his business. I suggested that he resist the urge to formalize his offer until he's had enough clients tell him what they value.
As Chris Sparks says in his article from above, "you'll have stumbled upon (product-market fit) when a client asks to pay you for a service you didn't even offer. If you are attuned to the challenges of your market, a successful offering just fits into this puzzle piece."
This email newsletter was originally shared with subscribers on May 16th, 2021. To receive the latest newsletters twice a month, sign up below!