Good morning!
Inside this Sunday:
I'm reading about the choices we make and how the unconventional can be rough and rewarding.
I'm working on launching the podcast! And implementing the Learning Flywheel on a big new client.
I'm thinking about the compounding effect of curiosity.
One of the most common mistakes I see course creators and subject matter experts make is forgetting what it was like to be a beginner.
In my team's weekly get together on Friday we talked about how the Learning Architects on our team always feel intimidated when we start a new project. There is so much to learn before we can even start creating a course.
But that's where we have the biggest impact.
We bring a Beginner's Mind to our Discovery process and in doing so, help our clients uncover crucial leaps of logic they were leaving out when explaining topics for the first time. This is only natural by the way. Most experts in a topic suffer from something called Earned Dogmatism.
By serving as a partner with a Beginner's Mind, we can fill in the gaps of understanding and organize content in a way that makes sense for someone seeing it for the first time.
I wrote about Beginner's Mind this week, and the beauty is its applicability in all areas of life – check out the post for some practical tips on cultivating it in your life.
Until next time, stay safe my friend.
Andrew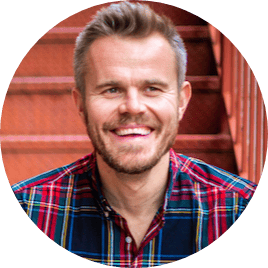 ---
MOST CLICKS
The most popular link last edition was my article on what Craig Foster learned from his octopus teacher. I send this article to all future guests of the podcast as a way to prepare for the interview.
---
I'M READING
This week I'm featuring the latest articles from my first two podcast guests, because I first thought it would be a cool thing to do, and then I read them. And then I realized, wow, this is some of their best work. How fitting.
Which Side Will You Take?
Paul explores in less than 140 words, how we can be both our harshest and easiest critic. We have so many choices to make, and he shows how varied the outcomes can be. This is Godin-esque.
Read the 1-min article with audio version
Debt, Cutlery, and Costumes
This is Nate's bare-all story of what it was actually like getting started. He's a successful and happy digital designer now, but it wasn't always like that. This is pure inspiration to keep doing what you're doing. Hold your hats for the reveal at the end, and enjoy the beautiful illustrations.
---
I'M WORKING ON
Launching the Podcast
I was stoked to release not one, but two amazing conversations this week as part of the official launch of 'How Did You Learn That?'
Both episodes were with friends I made this year, who have unique expertise in some pretty fascinating areas.
Paul LeCrone and I talked about competitive gaming and how focusing on the process over the outcome leads to far more success in the long run. Paul is a master conversationalist, with his own podcast, and you'll get addicted to his enthusiasm.
Then Nate Kadlac and I discussed digital design, and Nate's alternative route to mastering the skills he has now. We went deep at the end on typeface, a topic you never thought about, but will now obsess over finding your favorite one, just like you have a favorite color.
Creating a Learning Culture
This past week we landed a big fish as a client. Our team is absolutely giddy to start working with them, many an avid user of their product. Jill couldn't believe it when I told her. I wish I could share who I'm talking about (and I know this is cruel) but I wanted to mention this because it's the first end-to-end implementation of our Learning Flywheel concept and it's with a big name. I can't wait to get started.
Interview
I was interviewed by Tim Coil last week and I was so impressed by the research he did before we spoke. It made the whole interview enjoyable and revealed some things I haven't discussed in public before. My favorite was his last question, which is an absolute humdinger. It brought up stories of my early 20's that not many know.
Watch the last question for the story of the time I had dreadlocks.
---
I'M THINKING ABOUT
"Knowledge is the compound interest of curiosity." – James Clear
This is exactly what a learning culture looks like. It's also what I tell my Learning Architects when they feel intimidated about a new project. The top of the mountain looks like an impossible destination. Just focus on the next step. Ask good questions. Be curious.
This email newsletter was originally shared with subscribers on November 15th, 2020. To receive the latest newsletters twice a month, sign up below!